Unleash Your Creative Talent with a Multimedia Design Career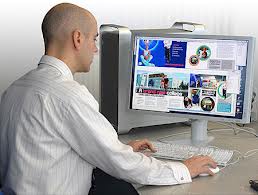 If you're the creative type who enjoys computers and technology, a career in Multimedia Design may be right for you. Multimedia Designers integrate audio, animation, graphics and video into presentation for CDs, DVDs, television programs and websites. They typically work for advertising agencies, television stations, web development companies and other media companies that develop multimedia presentations. Continue reading to learn more about Multimedia Design jobs, including responsibilities, skills, and educational requirements.
Multimedia Designer Responsibilities
Multimedia Designers create high quality websites, CD's and DVD's, special effects in video games, and corporate logos, and are also responsible for providing technical support to clients. A lot of technical skill is involved when audio or video projects are created, so Multimedia Designers must be creative and tech savvy. This job requires a high level of creativity and practical knowledge, so the person who possesses these qualities has an unlimited scope for growth and career advancement in this field. Multimedia presentations are often created to educate or entertain, and a Multimedia Designer must be able to produce a consistent look and theme to achieve these goals. Multimedia Designers are required to work with different types of clients, so good people skills are also recommended.
Multimedia Designers and Web Development
Designing and creating web-based layouts and animation are the primary responsibilities of Multimedia Designers who work in the web development industry. Though website development is a major duty of these professionals, they are also responsible for website maintenance. Websites sometimes have technical problems, so providing effective troubleshooting services is a necessary function of Multimedia Designers. They are also experts in graphical user interface creation.
Where do Multimedia Designers work?
Professionals in this field typically work at television stations, ad agencies, and web development organizations. The majority of Multimedia Designers work in the web development sector, and their jobs typically requires them to work in product development departments. Multimedia Design jobs and salaries are growing at a fast rate making this a highly desirable and somewhat competitive profession.
Educational Requirements and Experience
To be successful in this field, you should have a background in computer programming and/or animation. You should also love technology, and be a fast learner who can provide effective solutions to clients under a deadline. Knowledge of the following software programs is also desirable for Multimedia Designers:
– Sound programming language application (C, C++, JAVA)
– Adobe Illustrator
– Adobe Photoshop
– Adobe Dreamweaver
– Adobe Flash
– Flash 3D Animator
– PowerPoint
Fremont University offers an accelerated degree program in Multimedia Design teaching you the skills you need to succeed in the design world. You can begin an exciting Multimedia Design career in just 15 months by earning an associate's degree. Take the first step on the path to success by enrolling in the Multimedia Design program today!