Los Angeles Paralegal Association's Calendar of Events for February-May 2013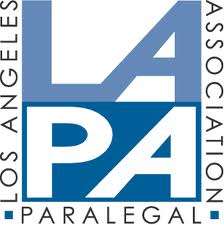 Below is the Calendar of Events for the Los Angeles Paralegal Association for February through May 2013:
Corporate/Real Estate Section LAPA's Corporate/Real Estate Section presents…
Mechanics Lien Coverage
Speaker: James Stovitz
During this seminar we will discuss the effects of the economic downturn on mechanics lien coverage, revisions to the coverage, variations in coverage (including credit v. indemnity, full up-front v. incremental, and CLTA v. ATLA) and current endorsement forms.
Date and Time
February 26, 2013
6:00 to 7:00 pm
Location
Lawyers Title Company
888 South Figueroa Street, Suite 2100,
Los Angeles CA 90017
Seating is Limited
Cost
$47.00 for LAPA members (if registered by February 25, 2013)
$62.00 non-members and late registration
RESERVE YOUR SEAT NOW!
Pro Bono Section Public Counsel's Run For Justice 5K Marathon
Please join the Los Angeles Paralegal Association (LAPA) Pro Bono & Community Services Committee and its supporters at the Run for Justice 5K on Saturday, March 16th at Dodger Stadium! This event will raise funds for Public Counsel, the nation's largest public interest law firm specializing in delivering pro bono legal services to low-income communities. For more details about this event and to join the LAPA Team at the Run for Justice, please contact Pro Bono & Community Services Committee Co-Chairs Maria Teresa Bravo and Bobby T. Rimas at probono@lapa.org.
To officially register for the LAPA Team, please click on the below link, and click on "CREATE YOUR OWN FUNDRAISER". This option will allow you to create a webpage (as a LAPA Team Member) to raise funds with your friends, co-workers, and colleagues in your name for this event.
http://www.crowdrise.com/LosAngelesParalegalAssoc/fundraiser/bobbyrimas1
After your webpage has been completed, you can e-mail your link to all potential donors!
2. To register for the 5K marathon for this event, please visit http://www.lamarathon.com and click "Register Now" at the upper right corner of the page.
– On the registration page, select "LA Big 5K" and proceed with registration.
– Follow the instructions and be sure to designate Public Counsel as your official charity.
Join The LAPA Team!
Certified Legal Assistant Four Week CLA Exam Review
Established in 1976, the CLA /CP (Certified Legal Assistant/Certified Paralegal) program has enabled the profession to develop a strong and responsive self-regulatory program offering a nationwide credential for all paralegals. Today over 15,000 paralegals have achieved this credential. For more information about this important step in your paralegal career go to http://www.nala.org/certification.aspx.
If you're considering sitting for the Certified Legal Assistant Exam in 2013, LAPA offers a four week exam review course. For more information, please contact Kari Wenger at kariwenger@hotmail.com.
Date
April 4, 2013 through April 27, 2013
RESERVE YOUR SEAT NOW!
Spring Career Conference LAPA's 17th Annual Spring Career Conference
Spring Forward With Your Career
Join us at the Spring Career Conference for tips from successful legal professionals who will inspire you to move forward in your career.
Date and Time
May 4, 2013
9:00 am to 1:00 pm
Location
National University
5245 Pacific Concourse Drive
Los Angeles CA 90045
Cost
$20.00 for LAPA members and Students (if registered by April 26, 2013)
$25.00 non-members and late registration
RESERVE YOUR SEAT NOW!

Additional Resources:
How Much Do Paralegals Make?
Legal Assistant Salary Information