Benefits of a Smaller Class Size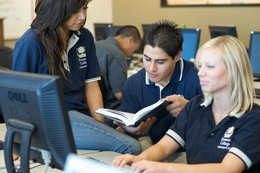 It has been proven that students learn faster and perform better in smaller classes. A class size of fewer than 20 students often results in more individual attention, increased participation, and better communication between the instructor and students. Students not only receive more feedback from their peers and instructors, they also tend to encounter more opportunities for hands-on learning than those in large classes. Below are 5 benefits of smaller classes and an explanation of how smaller class sizes enhance learning.
1. Coursework can be adapted to fit the class Unlike large classes, coursework
in a smaller classroom setting can be adapted to fit the needs of the students. Instructors are able to get to know a small group of students faster and tailor their approach according to the learning styles of the group. This customized curriculum prevents students from having to learn about a topic they have already mastered, allowing them to move on to the next subject.
2. Assignments are more hands-on In a smaller class, students have the opportunity to actually do the work rather than just learn about it. Smaller classrooms are conducive to hands-on assignments allowing students to experience firsthand the subjects they are learning about. Since many students learn better by doing rather than just listening to an instructor talk about a topic, the learning experience is enhanced.
3. Smaller classes encourage participation There is more incentive for students to pay attention and become involved in a small class, because it is obvious when they don't. Since students feel more motivated to participate in a small class, they tend to get more out of it. Students are able to share their ideas and ask questions about topics they don't understand.
4. Students receive more feedback from instructors More feedback from instructors results in a better, more effective learning experience. Students in smaller classes benefit from a more thorough assessment of their work. Faculty tend to have more time to devote to reading their students' assignments and providing feedback.
5. There is more opportunity to learn from peers Students have a better chance to get to know classmates in smaller classes and benefit from their comments on assignments and presentations. In addition, each student's contribution is acknowledged, particularly in discussion settings. Students are able to learn from one another based on the contributions they make during class.
Fremont University offers smaller classes and personalized attention. With plenty of hands-on assignments and interaction with classmates, our focus is on providing a more effective learning experience. Students learn better and faster in our smaller classes, better preparing them for the workforce. If the personalized attention offered in a smaller classroom setting appeals to you, consider enrolling in one of our degree programs. We offer degree programs in Multimedia Design, Business, Paralegal Studies, and Healthcare that can be completed in just 15 months. Convenient Online courses are available in Multimedia Design and Business – perfect for those who have a busy schedule. Enroll in one of our degree programs today – space is limited.
Additional Reading & Resources: